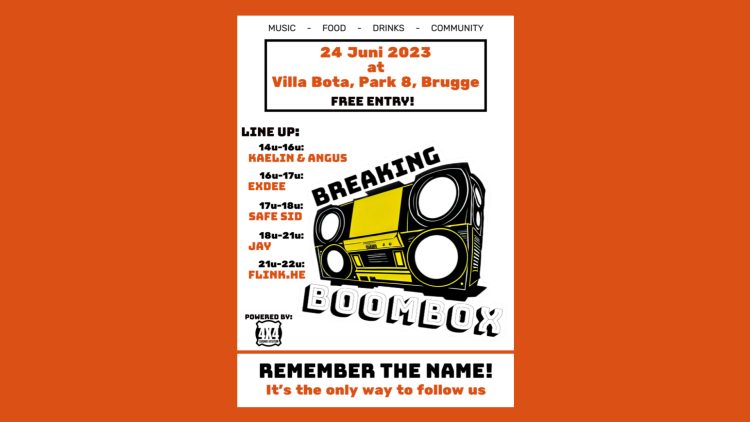 Breaking Boombox
Introduction
Breaking Boombox is a local Bruges based music & culture event.
This time the music will be experienced on '4×4 Soundsystem' by Bruno Masyn.
Expect some old-school boombox vibes, great food, amazing drinks and maybe more…
It's plan is to bring back a happening where we are conscious about the community and the connection we have with the people around us.
We have no social media page, so let's see how much stronger real words and connection is.
This way we are also counting on you to talk about this new initiative and be open-minded, because this is also an experiment to show the world what humanity can be when we come together.
Line up
14:00-16:00 Kaelin & Angus
16:00-17:00 Safe Sid
17:00-18:00 eXDee
18:00-20:00 Jay
20:00-22:00 FLINK.HE
MUSIC // FOOD // DRINKS // COMMUNITY
About us
Although we're supported by and collaborating with multiple organisations,
Breaking Boombox is organised by Xander De Wasch a.k.a eXDee, a young DJ and entrepreneur who was born and raised in Bruges.
He has gained some experience as event organiser with other local communities such as: Villa Bota, BPM, Dorp and WVMC.
We're always open to new collaborations with DJ's, visual artists and other organisations or entrepreneurs.
If you're interested please mail:
info@westvlaamsmediacollectief.com
Uitgesteld

REWIND ⏯️ FORWARD: JANE MUSSCHOOT

Een jaaroverzicht over en door Brugse jongeren die 2021 mee gekleurd hebben. "Ik durfde vroeger al eens opgeven als het tegenzat. Daarvan kwam dit jaar niets in huis. Alles moest lukken."

za 20 nov

Cosmic Techno

Locatie: Factor Club

iNTAKE teams up with Factor Club and brings you another adventure through the Cosmic Techno universe.