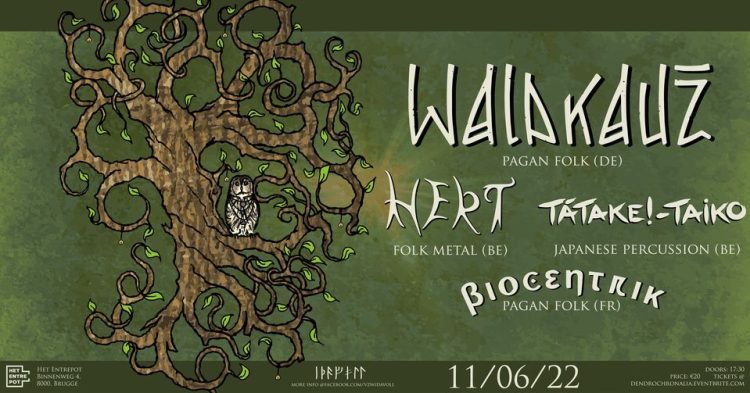 DENDROCHRONALIA – Waldkauz(DE), Biocentrik (FR/BE), Tátake!-taiko (BE), Hert (BE)
The 30th year of the tree approaches! Let's celebrate with folky tunes, beats from the far east and metallic pagans!
Our resident tree and co-founder, Korneel, wanted to celebrate his 30th birthday with some special guests: a few folky bands & YOU!
—-
Damage:
– Presale: €20 + service fee
– Doors: €25
– 0-12y free entrance
—-
TIMETABLE
17:30 Doors
18:30 – 19:30 Hert
20:00 – 21:00 Biocentrik
21:30 – 22:30 Tátake!-Taiko
23:00 – 00:30 Waldkauz
—-
WALDKAUZ (DE) – Pagan folk
"Songs about ancient magic, the power of nature and the dance of life and death. A hypnotic mix that invites you to dance or dream. Wild melodies alternate with intimate and celestial moments, always connected by stories from old sagas and legends. This is WALDKAUZ. On historical and modern instruments, the band combines their own contemporary compositions with influences from European folk. Danceable rhythms combined with catchy melodies and four unique vocals enchant the listeners."
www.facebook.com/WaldkauzFolk
www.wald-kauz.de
—-
ADRES & HOW TO GET THERE
Het Entrepot
Binnenweg 4, 8000 Brugge
PUBLIC TRANSPORT
Busstop 'Haven' is reached by bus 14, 41 en 42 just 150 meters from Het Entrepot
BY CAR
There is free parking at Het Entrepot. If there is no more room here, there is also free parking at the public parking 'Randparking Coiseaukaai' where there is room for about 75 cars