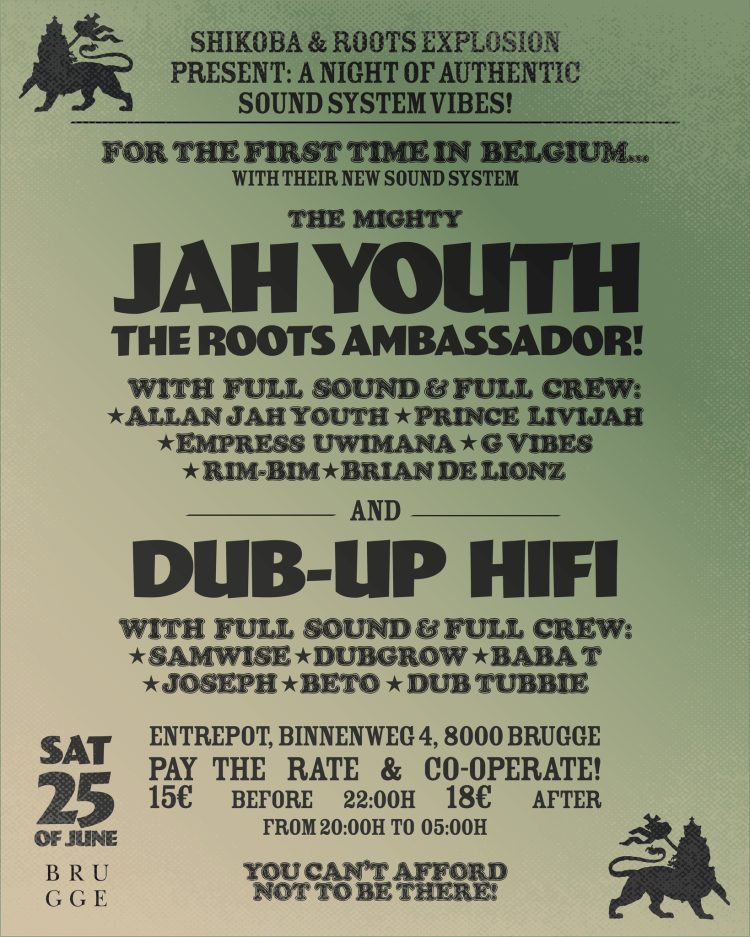 Jah Youth Roots Ambassador (UK – full sound & crew) + Dub-Up HiFi (BE – Full sound & crew)
Shikoba & Roots Explosion present:
JAH YOUTH ROOTS AMBASSADOR (UK – Full sound & full crew):
For the very first time in Belgium with their brand new full soundsystem, in session for five hours straight with Allan Jah Youth at the controls and with no less than five MC's/singers on microphone duty: Prince Livijah, Empress Uwimana, G Vibes, Rim-Bim and Brian De Lionz!
Jah Youth Roots Ambassador Soundsystem was founded in 1975 in the Forest Gate area in East-London. They started playing out in that area (Hackney, Leyton,…) and soon played all over London, the UK, Europe and even Africa.
Jah Youth was one of the first sounds to take their full soundsystem and crew on multiple trips to the African continent, in 1989, 1990, 1991 and 1994, to play in Kenya, Zimbabwe (with Misty In Roots), Sierra Leone and Ghana. They even left a part of their equipment in Ghana, which is being operated by a youth crew who call themselves 'Jah Youth Kruh.'
After a devastating warehouse fire in 2017, which destroyed the soundsystem and a lot of dubplates, Jah Youth has now finally been rebuilt and is sounding tougher than ever before.
Prepare yourselves for a wicked dubplate selection, pure roots & culture and Rastafari vibrations.
DUB-UP HIFI (BE – Full sound & full crew):
Dub-Up Hifi was established late 2016 to bring reggae music in a soundsystem style. Operator Dubgrow has been selecting as well as organising the Dub-Up & Tacticz sessions for many years. Selecta Samwise selects as Jah Frequency and has been hosting his Frequency Radioshow for 8 years now. On the microphone you can find Baba T & Little Lion MC in a combination style.
Beto & Joseph complete the soundcrew with electronic works & allround support.
Together they bring a selection of crucial roots, heavy dubwise & good vibes on their 8 scoop soundsystem.
In 2018 the record label Dub-Up Records was launched. With 8 vinyl releases up to date, they are on a mission to bring quality & conscious Belgian reggae music to the people.
Dub-Up has played on festivals like Reggae Geel, Couleur Café, Irie Vibes & Reggaebus to name a few, and has hosted artists like Aba Shanti, King Alpha, Nick Manasseh & Jah Free on their soundsystem. They have also strung up
their soundsystem meeting with sounds like Channel One, Salomon Heritage, Black Pearl and more.
20:00 – 05:00
20:00-00:00 – Dub-Up HiFi
00:00-05:00 – Jah Youth Roots Ambassador
Support: €15 before 22:00 – €18 after 22:00. Doorsale only! Come early, leave late!
NO smoking inside (respect the venue's rules)! NO drugs! NO violence! Keep it irie!