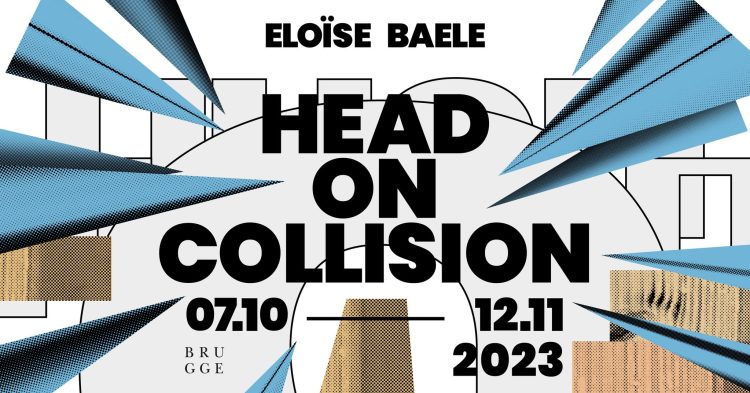 OPENING & BOOK LAUNCH → Eloïse Baele – Head on Collision
𝙊𝙋𝙀𝙉𝙄𝙉𝙂 & 𝘽𝙊𝙊𝙆 𝙇𝘼𝙐𝙉𝘾𝙃 → 𝙀𝙡𝙤ï𝙨𝙚 𝘽𝙖𝙚𝙡𝙚 – 𝙃𝙚𝙖𝙙 𝙤𝙣 𝘾𝙤𝙡𝙡𝙞𝙨𝙞𝙤𝙣
━━━━━━━━━━━━━━━━━━━━━━━━━━━━━━
𝙂𝙚𝙣𝙚𝙧𝙖𝙡
Hush/Hush is thrilled to invite Eloïse Baele (born in 1999, Belgium) for the first solo exhibition at the new project space in Bruges. Baele will be exhibiting a collection of recently created sculptures that complement several of her older pieces from 2022. Additionally, she will showcase her self-published book, "De Schaduw van de Vector," for the very first time.
━━━━━━━━━━━━━━━━━━━━━━━━━━━━━━
𝙒𝙝𝙖𝙩 𝙩𝙤 𝙚𝙭𝙥𝙚𝙘𝙩
"Why does the boundary between the two and three-dimensional intrigue me? When two planes intersect, a third dimension emerges, but this always implies blind spot. One perspective excludes the other. When one reads the words, the sculpture cannot be seen, and vice versa. If one comprehends the entirety of one plane, the other diminishes into a mere thin line. I am interested in a definition of space as the convergence of multiple dimensions."
The most recent sculptures on display in this exhibition originate from drawings of words that in a sense expand, shift and grow in size. Recognizing the spatial potential of these extruded words, Baele decided to make the flat drawings into sculptures, making light words into vast and concrete objects.
If poetry is rather an exercise in forging connections than in creating, Baele explores this principle in a very literal manner. Her 'word sculptures' are a tangible and concrete exploration of the arbitrary act of combining. In Head on Collision, Baele creates absurd piles of words, making herself a comical builder of worlds.
━━━━━━━━━━━━━━━━━━━━━━━━━━━━━━
𝙋𝙧𝙖𝙘𝙩𝙞𝙘𝙖𝙡
→ During the opening we offer a range of drinks at affordable, democratic prices. Both cash and card payments are accepted.
→ Eloïse Baele's book "De Schaduw van de Vector" will be available for purchase (€27,-). Please bring cash.
→ Open every Sunday from 2pm to 6pm during exhibitions and by appointment. Opening hours may vary during events.
→ Hush/Hush strongly advocates for inclusivity and, therefore, implements a free admission policy. With an optional suggested contribution of €2 during exhibitions and lectures, the organization appreciates every contribution, no matter how small or large. The proceeds generated from this 'pay what you can' policy are reinvested directly into the development of the organization.
→ The project space is wheelchair accessible.
→ Accessible by public transportation: (Brugge station) bus 1, 11, 63 every 10 minutes (alight at Assebroek Kruispoort), bus 10 every 10 minutes (alight at Gentpoort & 9 minutes walk).
━━━━━━━━━━━━━━━━━━━━━━━━━━━━━━